The members of the Borealis Alliance are choosing to work together to help improve the way airspace is managed for the benefit of airline and business aviation customers.
Together, the Borealis Alliance members provide air traffic services for 4.2m flights a year across 12.5 million km2 of North European airspace, accounting for 39% of European airspace.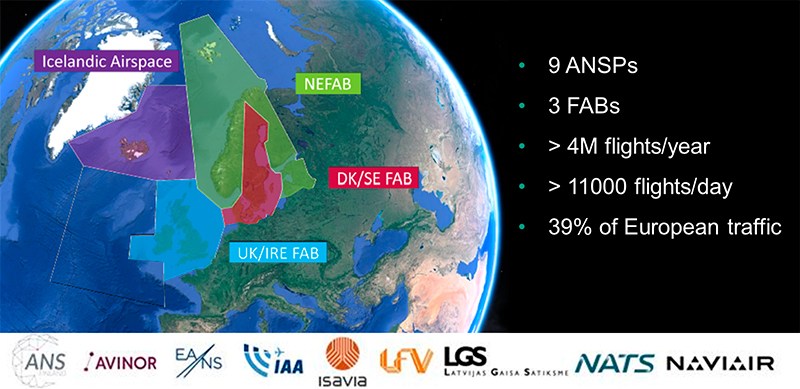 Read more about the members:
Air Navigation Services Finland Oy, Finland > www.ansfinland.fi
ANS Finland provides air traffic services at 21 regional airports, at Helsinki Airport and provides air navigation services for the entire airspace in Finland

281 335 IFR flights were handled in 2018.

ANS Finland is from 1st January 2019 a daughter company in the state owned Traffic Management Finland Group -public limited company operating according to business and service needs, financed through revenues from customers.
Avinor, Norway > www.avinor.no
Norway's Avinor Air Navigation Services is a major European air navigation services provider that provides aerodrome control and approach control services at airports, air traffic services in Norwegian airspace and maintenance and operation of the technical infrastructure for air navigation.

The company has more than a thousand employees and an income of 2 billion Norwegian kroner. Airports and airlines are its most important customers.

Avinor Air Navigation Services is an integrated, wholly owned subsidiary of Avinor, with separated economies between air navigation services and other operations in Avinor.

Lennuliiklusteeninduse AS (EANS), Estonia > www.eans.ee
EANS provides services to domestic and international air traffic in Tallinn TMA and Flight Information Region (it covers the airspace over Estonian territory and some assigned segments over the high seas).

Air traffic services are provided for flights in Tallinn FIR, including aerodrome traffic in Tallinn and Tartu.

EANS provides Aeronautical Information Management Services (including preparation of aeronautical information, its publishing and distribution); CNS/ATM services (Communication, Navigation, Surveillance) and data processing systems.

In the 2016 calendar year EANS handled ca 206 563 flights in Estonian airspace.
Isavia ANS is the ANSP for Iceland. State owned company, providing air traffic management, airport operations and air/ground communication services across the most northerly part of the North Atlantic and associated Arctic areas as far as the North Pole.

Isavia ANS controls an area of 5.4 million square km².

Isavia ANS handled 165 640 flights in 2016, a 13.5% increase since 2015.

Isavia ANS provides Air Traffic Control Services at Keflavik, Reykjavik and Akureyri airports as well as AFIS services at multiple other airports in Iceland.
IAA, Ireland > www.iaa.ie
The IAA is a commercial semi state company employing approximately 650 people at five main locations in Ireland.

The IAA is responsible for the provision of Air Traffic Management (ATM) in Irish controlled airspace (covering some 451,000 square km) and at the three state airports (Dublin, Cork and Shannon Airports), as well as aeronautical communications on the North Atlantic.

The IAA handles approximately 1 million flights in Irish managed airspace each year.

The IAA is also responsible for the the safety and security regulation of the civil aviation industry in Ireland.
The IAA is a partner of the Aireon joint venture, which - from 2019 - has been delivering the first ever global air traffic surveillance system using space-based Automatic Dependent Surveillance-Broadcast (ADS-B). The IAA and Aireon will also offer the aviation industry's first and only free global emergency aircraft location service (Aireon Aircraft Locating and Emergency Response Tracking (ALERT)).

The IAA is a shareholder of Entry Point North, the leading international Air Traffic Controller training academy, as well as a founding member of the COOPANS Alliance.
LFV, Sweden > www.lfv.se
LFV handled 785 000 flights in 2018 in Swedish Airspace, a 3% increase since 2017.

LFV provides en route air traffic control services from its control centers in Stockholm and Malmö.

LFV also provides local air traffic control services at 20 airports including Stockholm Arlanda, Gothenburg Landvetter, Malmö Sturup and all military airports.

LFV is first in the world with remotely operated air traffic management.

LFV is a state-owned enterprise.
Latvijas Gaisa Satiksme (LGS), Latvia > www.lgs.lv
LGS is the Latvian Air Navigation Service Provider, owned by the State.

LGS provides services throughout the entire Latvian airspace (Riga FIR).

LGS provides air traffic control from its Area Control Centre in Riga; it also provides Aerodrome and Terminal air traffic control services in Riga International Airport.

LGS handled 292 475 flights in 2018, a 9% increase in comparison with 2017.
NATS, UK > www.nats.aero
NATS handled 2.6 million flights in 2017, covering the UK and eastern North Atlantic from its centres at Swanwick, Hampshire and Prestwick, Ayrshire.

NATS also provides air traffic services at 14 UK airports; at Gibraltar Airport and, in a joint venture with Ferrovial, at a number of airport towers in Spain.

Building on its reputation for operational excellence and innovation, NATS offers aerodrome, data, engineering, capacity, efficiency and environmental performance solutions to customers worldwide, including airports, airlines air traffic service providers and Governments.
Naviair, Denmark > www.naviair.dk
Naviair handles 670 000+ flights carrying more than 45 million passengers per year in Danish airspace.

Naviair provides air traffic control from its control centre in Copenhagen.

Naviair also provides air traffic control services at six airports including Copenhagen and Billund.

Furthermore Naviair provides flight information and SAR in Greenland and aerodrome flight information service in Vágar airport on the Faroe Islands.

Naviair is partner and partly owner of Aireon, the company that creates space-based ADS-B, making global air traffic surveillance a powerful reality. The system became operational in 2019.

Naviair is a shareholder of Entry Point North, the leading international Air Traffic Controller training academy, as well as a founding member of the COOPANS Alliance.